Who we are
At Ski.com, 45 years in the ski-travel industry meets cutting-edge technology and free services to create the largest provider of ski vacation packages in North America.
Ski.com began as S&L Travel, established in Aspen, Colorado in 1971, and has since grown to provide complete ski-vacation packages to 120+ of the most popular resorts in North America, Europe, South America, and new this year, Japan.
How to book with Ski.com
---
If unsure of where to go, call, chat or email with our 70+ knowledgeable Mountain Vacation Specialists or use our new, intuitive Resort Finder tool.
If you're looking for deals, visit our Deals page or ask one of Mountain Vacation Specialists about our current discounts and promotions.
After determining where you want to go and stay, we can also help you book the rest of the package, including flights, ground transportation, vechile rentals, lift tickets, lessons, activities and more.
You can book your complete ski vacation through Ski.com four different ways: over the phone, in a live chat, using our online booking engine, or via email.
That's it! All that's left is to dream about the ski vacation that awaits.
Get ready for your trip by tuning into the many guides and tips on the Ski.com Blog and checking out the Ski.com Packing List.
Advantages of booking with Ski.com
---
We're a free service!
Time. Did you know that 39% of vacationers spend more than five hours shopping for options? Ski.com is your one-stop-shop for researching multiple resorts and properties and booking the entire package in one, trusted place.
Money. Our long-standing relationships allow us to negotiate deep discounts. We have hundreds of lodging and lodging/lift ticket package deals available. Remember, the more travel components you bundle, the more you save! Our Mountain Vacation Specialists can help you find the perfect deal.
Reputation. We've been in the business of sending people on ski vacations for more than 40 years. Ask our partners; they'll tell you why they continue work with Ski.com year in and year out.
Options. We offer 120+ resorts worldwide and 4,000+ lodging options, making us the largest provider of ski vacation packages in North America.
Personalized service. Our Mountain Vacation Specialists are lifelong ski vacation experts and will ensure you have your best ski trip yet! Read more about our experts below.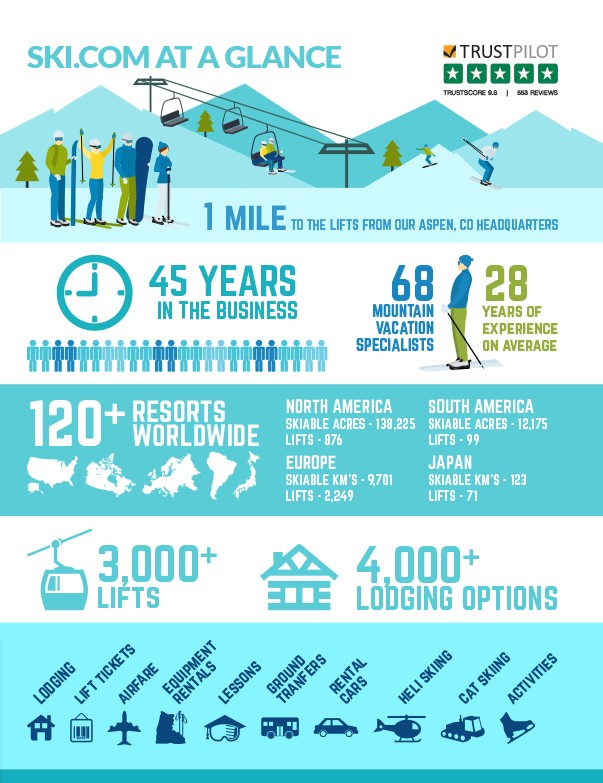 Our history
Founded as S&L Travel, the company changed its name to Aspen Ski Tours in 1974. Then in 1999, after purchasing a highly sought-after domain name, Aspen Ski Tours assumed the Ski.com name to better showcase its diverse product offerings.
In September 2004, Ski.com acquired Lynx Vacations, GoWest Tours, Adventures on Skis, Sportours and AnyMountain Tours in order to expand its domestic operations and to provide international and group travel. In June of 2010, Ski.com acquired Rocky Mountain Tours to further solidify its position as the leader in the industry
Our team of ski travel experts
At Ski.com, the staff lives and breathes ski culture. Our more than 70 Mountain Vacation Specialists are ski and snowboard enthusiasts who average 28 years of experience in the ski industry. They know the intimate details about each resort because they've skied the mountains, stayed at the properties and eaten at the restaurants.
These experiences allow them to accurately determine which resort(s) and accommodation(s) is perfect for each customer, based on their interests and budget.
Located 5 minutes from the slopes
Aspen
210 Aspen Airport Business Center, Suite AA
Aspen, Colorado 81611
Glenwood Springs
1512 Grand Avenue
Glenwood Springs, Colorado 81601